---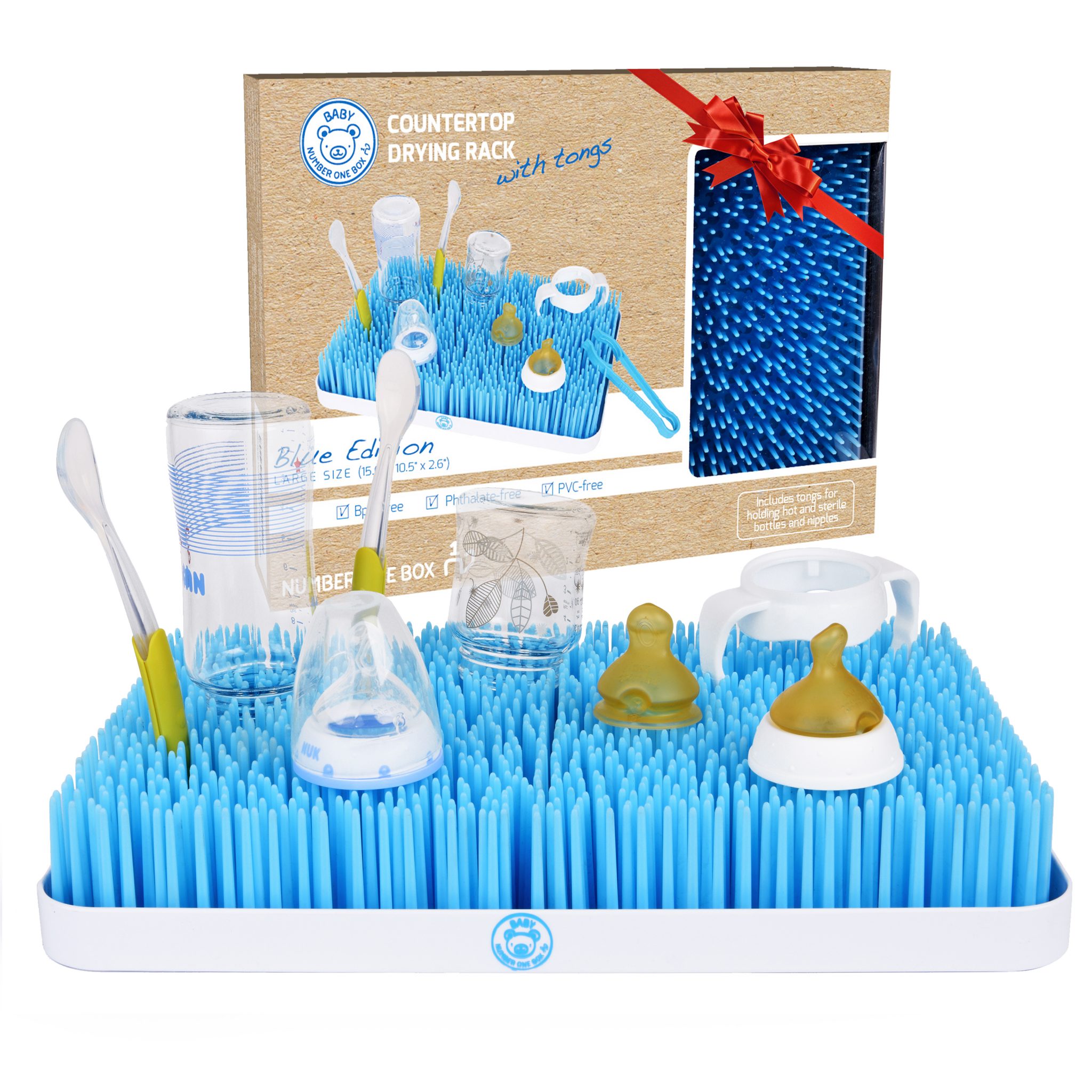 High Capacity BABY BOTTLE DRYING RACK by NUMBER ONE BOX , Blue Edition, with Bottle Tongs
$19.99 $24.99
You save 25%.
EXTRA LARGE, HOLDS ALL BABY BOTTLES & ACCESSORIES
100% NATURAL, FAST-DRY DESIGN
BPA FREE, ANTI-BACTERIAL & SAFE FOR CHILDREN
PERFECT BABY SHOWER GIFT
USE IT FOR MORE THAN JUST BABY ITEMS
JPierce
Awesome drying rack!!
Amazing product. I have a smaller version and this one is just the right size for a family with a new addition. It's designed for drying baby bottles but also works great with water bottles and just about any other dishes.
The box on this one is free of BpA, Phthlates, and PVC. It comes with tongs so you can pick up the bottle and accessories while keeping them sterile. The grass sits in a white tray that collects the water that drips from the dishes. To clean the grass, I place it in the top of the dishwasher every now and again and it cleans up nice. The tray cleans easily with a soapy cloth but could probably also go on the top shelf of the dishwasher. I highly recommend this grass. It's better looking on the cuter than a big bulky dish rack and it works great and can easily be stored if needed.
I received a discount on this item. I have given my honest review on this item because I like to know whether an item is worth purchasing. This one is. I have the older green one that is smaller and love it!
Guadalupe
Fits so many bottles
We use dr.browns bottles which have so many different pieces. We had been on a search for a fast drying rack large enough to fit bottles more efficiently... we found it!!! This rack is amazing. Fast drying. Would recommend.
Dan
Washing bottles and pumping supplies happens so many times a day in this house with a newborn and it's nice to have a specific rack to put them all ...
This is one of those items I didn't think I'd need until I needed it! Washing bottles and pumping supplies happens so many times a day in this house with a newborn and it's nice to have a specific rack to put them all on (especially when you're tired and haven't put your regular dishes away yet!) I got the large because I wanted the space for all my supplies but I am happy to say it still doesn't take up too much counter space. I wish I had gotten this the first time around! Glad I have it for round two
EXTRA LARGE, HOLDS ALL BABY BOTTLES & ACCESSORIES
Dry all your baby's bottles and feeding accessories at the same time with this high capacity, fast-dry rack. The rack holds up to 24 bottles at once, so that you can fit everything at once and be ready for the next meal immediately. It can be used for toddler or breastfeeding gear, including valves, nipples, straws, sippy cups, spoons, pacifiers, breast pump parts and more. Very large 15.6" x 10.5" x 2.6" holds everything for one or many babies!
100% NATURAL, FAST-DRY DESIGN
Expertly designed Fast-Dry Natural Air Flow System helps every busy mom save time by having your baby's bottles ready fast! Crafted to look great in any home, the vibrant Blue Grass color matches all kitchen styles. With its extra-large rectangle shape and 3 piece design for easy assembly, this is the BEST baby bottle drying and organization system out today. Made by Number One Box, your trusted source for all safe baby accessories!
BPA FREE, ANTI-BACTERIAL & SAFE FOR CHILDREN
100% Tried and Tested Baby Safe! The drying rack is BPA, Pthalate and PVC-free, and the anti-bacterial drying rack stops mould from forming on washed items. The plastic tray keeps your counter dry by collecting excess water, while the dividers keep bottles in place for quick drying. Simply pull-out and empty the tray to clear the excess water in seconds! The including PLASTIC TONGS help you move sterilized items safely and easily.
PERFECT BABY SHOWER GIFT
The perfect gift for any expecting mother, our rack appears on nearly every mom's Must Have baby item list. Saving mothers time with the fast drying system and keeping babies healthy with the BPA-free design, you can't go wrong giving this as a present. Packaged in a lovely box with instructions on care and cleaning, this rack makes your baby shower gift a welcomed and practical addition to the kitchen for any mother!
USE IT FOR MORE THAN JUST BABY ITEMS
While our specially designed drying rack was developed to help mothers with young children, it has many uses! Perfect for commercial use or to dry delicate glassware at home, the large size means it can fit just about anything. Also great for beauty salons, craft studios or artists, as the dividers mean that any place you need dry and organized goods can benefit from this rack today!
The best baby drying rack out today.
Developed by moms, for moms.
The perfect addition to any family's kitchen, the spacious design of this rack allows you to fit all of your child's feeding accessories and bottles in one place! All baby bottles, food containers, breast-feeding accessories or more can be dried safely and quickly on this anti-bacterial, BPA free drying rack in a stunning Blue Grass color.
The rack is able to fit up to 24 bottles, but can be used for valves, nipples, straws, cups, cutlery, pacifiers and more! The easy-to-remove bottom drip mat makes it simple to get rid of the extra water in just seconds. Also included with the rack are tongs, which make holding hot or sterile bottles safe and easy.
Ideal for parents with several small children, this rack lets you dry everything together after feeding so it is ready for your next meal!
The multi-functional versatility means that it is convenient for other uses such as high-end glassware, beauty salons or craft shops. Anywhere that you need something dry and organized, this rack is perfect. It's universal design also means that it is great for travel, so you can take it with you for on-the-go drying!